PROMOTED PARTNERS
Overview
If you need a smartphone with top-notch performance, photos that are high-quality and worth sharing with friends on social media, a device that can create content in all aspects, plus a charger that can fill up the full battery in less than 20 minutes, then the OnePlus 10T 5G should be your next smartphone.
Locally available for P35,990, the OnePlus 10T was the subject of this review.
Don't miss the OnePlus promotion on Shopee. You can get an additional P1k discount + P200 if you leave a review.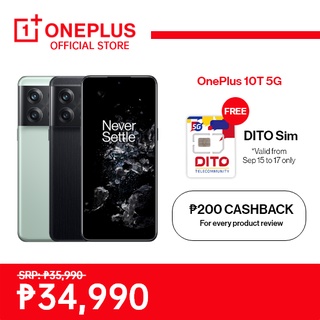 Pack with Qualcomm's Snapdragon 8+ Gen 1 and sports a 6.7-inch Full HD+ Super AMOLED screen. A 16GB of LPDDR5 RAM, 256GB of storage, and an effective cooling system. Plus, the 20-minute 160W SuperVooc charger.
Design
Let's make it quick and easy.
Once you get your hands on the OnePlus 10T 5G — starting from its retail packaging up to the point that you'll justify this purchase to your wife.
Running your fingers all over the device will instantly tell you that it's a premium device.
Checking what's under the hood will even confirm that the OnePlus 10T 5G will be a good investment.
I'm sure the wifey will flash her thumbs up without any issue. Of course, that's after a sumptuous lunch.
Alright, now that the purchase is done. Let's take you to what you'll expect after you finally unboxed your own unit.
The one-piece volume rocker is on the left, easily reached by your index finger. The power button is on the right conveniently accessible by the thumb. Tilt the phone a little bit and you'll have full access to the USB-C, the speakers, the SIM tray, and the noise-canceling mic.
Flipping the phone reveals the humungous camera module that houses the 50MP Sony IMX766 sensor, the 8MP ultrawide lens, the 2MP macro lens, and the LED flash. All these are wrapped in a super glossy high-quality plastic finish.
The specs, pricing, and availability are all in the unboxing article. Click the link above. ☝️
Also, you can refer to this quick video I did for Tiktok for the battery charging test.
Display
The OnePlus 10T has a 6.7-inch display with 1080 x 2412 pixels, a 20:9 aspect ratio, and a 120Hz Fluid AMOLED.
To further explain, OnePlus introduced Fluid AMOLED displays on its OnePlus 7 series smartphones. Fluid AMOLED displays are AMOLED screens that are designed to consume less power while producing visuals with vibrant colors that can be updated at rates more than 60Hz.
That explanation is extremely evident in the OnePlus 10T. The display is so bright and clear. But we have no record if this is indeed less in power consumption vs the Super AMOLED displays.
Performance
One of the OnePlus 10T's pillars is powerful processing, which is why it is packed with high-end specs.
The processor is a Qualcomm Snapdragon 8 Plus Gen 1 chip. Because of this CPU, the phone is aimed at those who are using demanding apps such as gaming and video editing.
There have been reports of Snapdragon 8-series CPUs overheating, but the OnePlus 10T 5G includes an inbuilt cooling mechanism. That's for some peace of mind right there.
It has 16GB of RAM. OnePlus claims that the latter allows for 30 programs to run concurrently, but we can't think of a scenario where this would be useful. You should not buy a phone based purely on its storage capacity or pricing.
This is a 5G phone, however, it can connect to these networks if one is available in your area. However, keep in mind that the speed of your connection is almost entirely determined by your service provider and location, not by your phone.
Camera samples
Overall the camera of the OnePlus 10T takes good photos. But do take note that the majority of the photos I took tend to be overexposed. Lowering the exposure does the magic. A minor adjustment you need to do every time you take a shot.
Conclusion
The OnePlus 10T 5G is the smartphone to buy if you want blazing fast performance, high-quality social media photos, and a charger that can fully charge the battery in under 20 minutes.
Where to buy OnePlus 10T 5G?
OnePlus 10T Review Summary
Design - 9.5
Performance - 9.5
Camera - 9
Battery/Charging - 9.5
Price - 9
PROMOTED CONTENT