A better mobile experience awaits residents and tourists in Sagada in Mountain Province as PLDT wireless subsidiary Smart Communications, Inc. installed Long Term Evolution-Advanced (LTE-A) in the town.
"This is part of Smart's broader effort to deliver world-class internet service to every corner of the country," said Mario G. Tamayo, PLDT and Smart Senior Vice President for Network Planning and Engineering. "Now that our sites are now up in areas like Sagada, we will be able to serve our customers better, wherever they may be."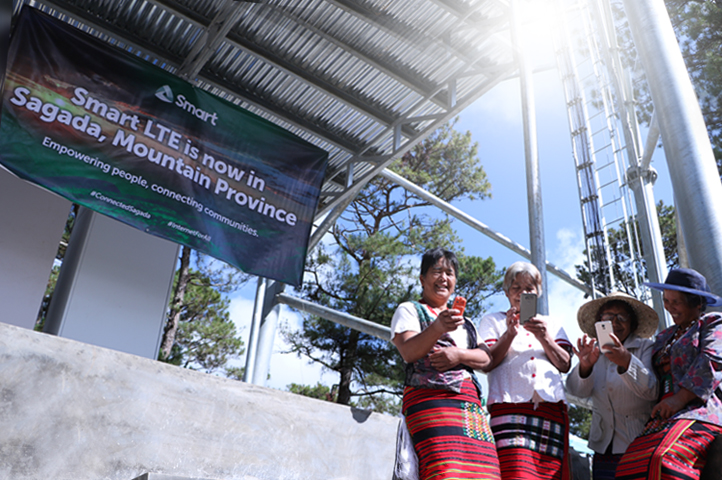 "With this expanded network, our customers in Sagada can now enjoy a better mobile data experience as they watch and learn from YouTube videos, share Sagada's breathtaking views to the rest of the world via Instagram, and keep in touch with loved ones here and abroad via Facebook, FB Messenger, and other messaging apps," Tamayo added.
Present during the Smart cell site's inauguration at Brgy Poblacion, Sagada were representatives from the local government of Sagada led by Vice Mayor Benjamin Capuyan, the National Commission on Indigenous Peoples and the Episcopal Church of Saint Mary the Virgin.
Smart is ramping up its rollout of LTE-A and carrier aggregation across the country. Carrier aggregation (CA) is a feature of LTE-A which enables the combination of two or more radio frequency bands in order to deliver much faster data speeds to mobile phone users. 2-Component Carrier (2CC) carrier aggregation features the combination of two frequencies, while 3CC involves the combination of three frequencies and 4CC combines four bands.
Smart is rolling out up to 3CC to 4CC aggregation across Metro Manila and in other areas where there is a concentration of users and devices. "Coupled with our accelerated LTE-A nationwide roll-out, the use of more LTE-A capable devices by more customers will also help lift mobile data speeds in the country," Tamayo added.